LIVE @ VESCH
CONCERTS START 20:00 SHARP
5 EURO
http://ensembleeconomique.tumblr.com
http://sfbroadcasts.blogspot.com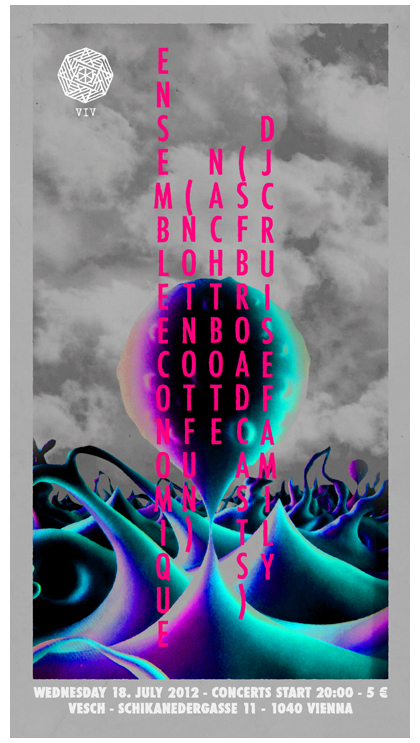 Ensemble Economique (US, Not Not Fun)
Based in rainy Northwest California, as one half of improv fiends Starving Weirdos Brian Pyle has been releasing music on a variety of labels for a few years now, but it was with 2010's supremely creeped-out slasher-flickesque Psychical, issued on Not Not Fun, that brought Ensemble Economique to wider attention. Utilising a minimal arsenal of '80s style synths and drum loops, occasional vocal samples, drones and processed noise, Ensemble Economique's music feels extremely cinematic in nature; in its strong narrative flow, its choice of sonic tropes and widescreen atmospheres, and primarily because these extended pieces feel like they are about something. Each piece is a single moment stretched to infinity, seemingly capturing the time around the kind of revelatory strange occurrence so obsessed over by Aickman – like witnessing something that is either unfolding or about to, in extreme slow motion.






Nachtbote (SF Broadcasts)
High energy fractal arabesques and endless light-headed dervishes from this viennese constructivist & knife stabber Hanno Schnegg – beloved for his deepsea synth journeys with Raju Arara aka Rani Bageria on Antwerpen's finest Ultra Eczema, his monikers Schnell & Schneller, and his selftitled cassette "Nachtbote" on SF Broadcasts, long sold out at source. Expect flesh piercing sawtooths, swamp wobbling sines & outer planetary triangle jewels melting down your subconsciousness into little hypercubes only to let it remodel again into one giant, heavy, white egg.






DJ Cruise Family (Not Not Fun)
Your favorite doomsday cult chantings, repetitive crooked loops, detroit man-machines and brooklyn gangsters dug-out of the crates by YOUR FAMILY! Watch out!