« mit einem Filmabend (08.03.)
« in einem Gespräch mit Nicola Brunnhuber (01.03.)
« liest aus seinen Texten (23. 02.)

Text (Franz Zar) zur Ausstellung von Christoph Bruckner





,Untitled', 2011 – linocut on paper on cardboard, 100 x 90 cm
Part of the floor in the artist's former flat with scratches and marks from a chair printed onto paper.
(enlarge: click image)
,Untitled', 2012 – cotton, wadding, yarn, dimensions variable
All the artist's single socks stuffed with wadding.
(enlarge: click image)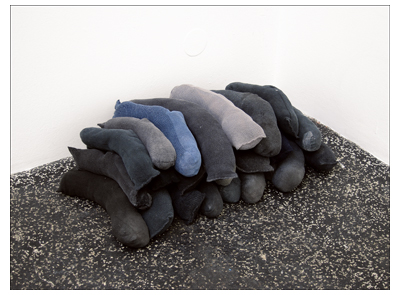 ,Untitled', 2009-2012 – stainless steel on ceramics, diameter 27,3cm
(enlarge: click image)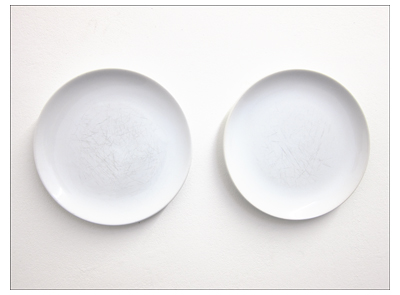 1&2.) exhibition views 3.) ,Untitled', 2012 – urine on cotton, 135 x 190 cm,
4.) ,Untitled', 2012 – dvd, dvd player, monitor, paper, 4 min,
5.) ,Untitled', 2012 goulash, fat, mustard, charred food, curry, white mushroom sauce, tea, potatoes, olive oil, chili, eggs, soy sauce, tumeric and dirt on cotton, 50 x 70 cm
Cotton used as a dish towel for several weeks.
6.) ,Untitled', 2012 – cotton, buttons, yarn, approx. 72 x 63 cm
Christoph Bruckner
Alszeile 99/10/14
1170 Wien
chbruckner@hotmail.com

geboren 1975 in Amstetten (Niederösterreich),
lebt als Schriftsteller, Kunsttheoretiker und bildender Künstler in Wien
1996-1998 Studium Journalismus an der Europäischen Journalismus Akademie (EJA) der Donau-Universität Krems
1996-1998 Studium Publizistik und Kommunikationswissenschaften an der Universität Wien
1998-2004 Studium Kunst an der Akademie der bildenden Künste in Wien
2006 Förderungspreis der Stadt Wien für bildende Kunst
seit 2000 Ausstellungsbeteiligungen (u.a. Grazer Kunstverein, Kunsthalle Exnergasse)
seit 2009 Veröffentlichungen von literarischen und kunsttheoretischen Texten in Literaturzeitschriften, Anthologien
und Katalogen (u.a. Kunstraum Niederösterreich, Mumok, Secession, Kunstverein Braunschweig, Fundação Calouste Gulbenkian)
seit 2011 Unterrichtet dreidimensionales Gestalten an der Technischen Universität Wien

Publikationsliste literarischer Texte (Auswahl):
2009 ? (wiesoeller Text), Zeitzoo Nr. 23
Gegen das Denken, Text fall text, floppy myriapoda Nr. 12
Things I've said when no one was around, Die Schweigen, Wohnzimmer Nr. 40
2010 Inventar/Inventur, Zeitzoo Nr. 24
Die japanische Hitparade vom 25. Mai 2008, in: Horn, Batya und Baier, Christian (Hrsg): Schlager & Treffer. Eine Anthologie. Edition Splitter
Grapheme, Die Trennung von Arbeit und Lohn, Wohnzimmer Nr. 41
Blankogedicht, floppy myriapoda Nr. 14
Hass, DUM Nr. 55
Text fall text (extended version), Magazin Textuelle Bildhauerei Nr. 5
2011 Das 10-Finger-System, Wohnzimmer Nr. 43
Säumige Saucen, in: Vallaster, Günter (Hrsg.): Paragramme. edition ch

Einzelpublikation:
2010 Die Trennung von Arbeit und Lohn, Schwarzes Quadrat, Tor!, Birne, Monochrom Schwarz, Flugasche, Zangengeburt, Kühlerfigur,
The Cast, Paper Kitten Claw, Rechtsruck, Depressionen, Text written while cleaning the keyboard of my computer, Black Pages Nr. 10
,Untitled', 2011 – MDF, 106 x 81 cm
Failed attempt to protect the floor in the artist's flat with MDF, that should have been later used as a printing plate. Since the MDF was too hard to show any scratches and marks, the board is exhibited as an independent work.
(enlarge: click image)







«Archiv 2012