mit Musik von marberger/rüdiger (first dj-set since 2010)
CONNOISSEURS ADVICE…
Glenfarclas 15YO, Single Malt Scotch Whisky!
"Though this be true, I must nevertheless here consider that I am a man, and that, consequently, I am in the habit of sleeping, and representing to myself in dreams those same things, or even sometimes other less probable, which the insane think are presented to them in their waking moments. How often have I dreamt that I was in these familiar cicumstances, that I was dressed, and occupied this place by the fire, when I was lying undressed in bed? At the present moment, however, I certainly look upon this paper with eyes wide awake; But I cannot forget that, at other times I have been deceived in sleep by similar illusions; and, attentively considering those cases, I perceive so clearly that there exist no certain marks by which the state of waking can ever be distinguished from sleep, thatI feel greatly astonished; and in amazement I almost persuade myself that I am now dreaming."
René Descartes, Meditatons on First Philosphy. With Selections from the Objections and Replies, ed. John Cottingham, Cambridge (UK) 1986,
First Meditation, 13.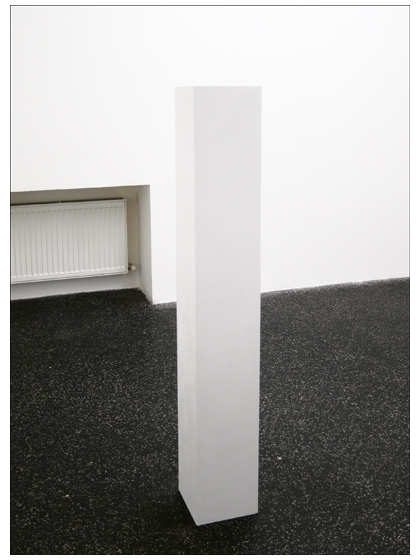 "Dies klingt sehr schön; aber bin ich nicht ein Mensch, der des Nachts zu schlafen pflegt und Alles dies im Traume erfährt? Ja mitunter noch Unwahrscheinlicheres als das, was (den Wahnsinnigen) im Wachen begegnet? Wie oft kommt es nicht vor, dass der nächtliche Traum mir sagt, ich sei hier, mit dem Rock bekleidet, sitze am Kamin, während ich doch mit abgelegten Kleidern im Bette liege! – Aber jetzt schaue ich sicher mit wachen Augen auf das Papier; (…) Aber entsinne ich mich nicht, dass ich von ähnlichen Gedanken auch schon im Traume getäuscht worden bin? – Indem ich dies aufmerksamer bedenke, bemerke ich deutlich, dass das Wachen durch kein sicheres Kennzeichen von dem Traume unterschieden werden kann, so dass ich erschrecke, und dieses Staunen mich beinahe in der Meinung bestärkt, dass ich träume."
René Descartes: Untersuchungen über die Grundlagen der Philosophie, in René Descarte's philophischen Werke, Abt. 2, Berlin 1870,
Meditation I, S. 21.
Installationsansichten
(enlarge: click image)







Gernot Wieland
1968 born in Horn, Austria
Lives and works in Berlin, Germany
Detailansicht: Kristina Marberger und Gernot Wieland ,…dreamed…',